Our core responsibility to the EOSIO community is to help govern, technically manage and provide effective services across all of our supported EOSIO based networks.
To effectively provide the block producer services to support thousands of commercial scale DApps requires not only an agile enterprise scale infrastructure solution, but a mature operational structure to monitor, maintain and manage that infrastructure.
Professional integrity, transparency, commitment, cooperation and independence are all characteristics that the EOSIO community can expect from EOSphere.
We believe our proven experience will inspire confidence in stakeholders, DApp developers and EOSIO based blockchain businesses for the operation and governance of our supported EOSIO networks, while supporting our region as a global member of the EOSIO community.
Although based in Australia we aim to serve the entire EOSphere!
GOVERNANCE, VALUES & COMMUNITY
EOSIO token holders delegate blockchain governance to Block Producers.
We believe the inbuilt governance and authentication management mechanisms are a defining feature of the EOSIO technology. This should enable rapid evolution of the various EOSIO based blockchains, as well as DApp and blockchain business development knowing that there are strong well-defined governance mechanisms in place.
The EOSphere team have experience in assessing difficult subjective decisions that decide the direction of a blockchain through our involvement in multiple EOSIO based blockchains
EOSphere will vote on all issues and intend to be 'DApp developer and enterprise business friendly'. Meaning for example, where an edge-case bug results in trapped funds or errant behaviour that affects the DApps end-users, we will likely provide support using the various mechanisms available to update defective applications and ensure continuity.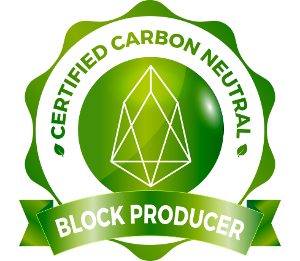 WHAT IS THIS CHAIN ABOUT?
The young granddaddy of them all, this is what started it all off and the chain we got involved with over a year ago. It operates on the Delegated Proof of Stake (DPoS) methodology which means the custodians of the chain — in this case the Block Producers (BP's) — are voted in by EOS token holders and the top 21 ranked BP's are responsible for signing blocks. BP's are paid by 1% inflation on the network, top 21 BP's are rewarded the most for this responsibility however there are also a number of standby BP's that are also rewarded for their service provided they qualify for at least 100 EOS through sufficient votes. We actually created a video describing the Role of a BP.
Anyone with EOS tokens can cast votes for the Block Producers (BPs) that they think are adding the most value to the community. Their total token holding allows them to vote for up to 30 BP's simultaneously i.e. If you had 1,000 EOS, you could give 1,000 "votes" each to your favourite 30 BPs.
WHY ARE WE A PART OF IT?
We are extremely passionate about EOS and believe this historical blockchain will evolve into the transcendent platform we know it will be. We were one of the founding BP's at launch in June and had the first independent voting portal very soon after launch. We've fully supported the whole EOS-Mainnet community by organising meetups in our native Australia, attending hackathons and BP Summits and support initiatives such as Chintai, pixEOS and Emanate.
WHAT IS THIS CHAIN ABOUT?
The Worldwide Asset eXchange™ (WAX) is a purpose-built blockchain and protocol token designed to make e-commerce transactions faster, easier, and safer for all participants. The WAX Blockchain mainnet uses EOSIO and as such Delegated Proof of Stake (DPoS) as its consensus mechanism. The custom features and incentive mechanisms such as voting, staking and a Worker Proposal System (WPS) developed by WAX are designed to optimize the blockchain's usability in e-commerce, and encourage voting on guilds and proposals.
WAX is creating a suite of blockchain-based tools upon which dApps, marketplaces, and native non-fungible tokens (NFTs) are built. These tools include services to support e-commerce operations such as an interactive block explorer, wallet, SSO and OAUTH, item creation, an RNG service, interactive item viewers, marketplace creation, and more.
WHY ARE WE A PART OF IT?
EOSphere support real world adoption of EOSIO technology, WAX brings an existing and successful business to blockchain and have chosen the EOSIO general purpose platform as their technology of choice as it meets their performance, usability and scalability requirements. We believe WAX moving to blockchain and EOSIO is a massive endorsement of what block.one have accomplished and we as an EOSIO Block Producer have set out to support.
We also believe that trading of digital assets are one of the strongest use cases for blockchain and see what WAX are doing as an excellent enabler to reduce friction for new everyday mainstream users.
WHAT IS THIS CHAIN ABOUT?
The ORE Protocol (Developed by AIKON – https://aikon.com/) is a blockchain-hosted API that provides a developer-friendly way to define any digital asset (or any physical asset with an online digital representation) and to trade and control access to these protected resources.
A Rights Token and Rights Registry smart contracts form the core of the ORE protocol. They are contracts deployed on an EOSIO platform and in this case on an EOS sisterchain called the ORE Network.
The ORE Network is a public blockchain with a network of appointed Block Producers and is designed for complete interoperability with the EOS Mainnet, the sole function of the ORE Network being to store rights tokens and user accounts. Accounts and tokens created on the ORE network interoperate with accounts, tokens and transactions on the EOS Mainnet.
WHY ARE WE A PART OF IT?
EOSphere have always supported initiatives that provide a positive impact to the EOSIO ecosystem and with regards to the ORE Protocol it's because of ORE ID (OAuth for Blockchain)
ORE ID allows anyone to access your EOS Mainnet dApp with one-click sign up and blockchain account creation using a login that they are already familiar with. ORE ID supports Google, Facebook, Github, Linkedin, Twitter, Twitch, and practically any other OAuth-enabled login provider. This drastically removes the friction that new users to EOS or Blockchain in general experience when using a dApp for the first time.
WHAT IS THIS CHAIN ABOUT?
Proton (XPR) is a public blockchain and smart contract platform designed for both consumer applications and peer-peer payments.
It is built around a secure identity and financial settlements layer that allows users to directly link real identity and fiat accounts, pull funds and buy crypto, and use that crypto seamlessly in apps.
Proton was developed as a joint effort by two companies: Metal and Lynx. Both companies share a vision of making crypto more accessible to everyday consumers, and both have independently made significant progress towards that goal.
Metal has built a compliant, consumer friendly platform for peer to peer payments. Lynx had developed an app-focused blockchain where EOSphere was also a Block Producer.
Proton combines the elements of both efforts into a single unified offering.
WHY ARE WE A PART OF IT?
Proton is designed for consumer usability including providing an excellent mobile wallet that is designed to seamlessly work with decentralised applications. Proton is a fantastic example of enabling mainstream adoption of blockchain technology through enablement of a positive user experience, which is directly aligned with our values as EOSphere.
WHAT IS THIS CHAIN ABOUT?
The Telos Blockchain was developed to address a number of challenges experienced on the EOS-Mainnet. A team of highly experienced members of the Blockchain community designed the Telos platform using EOSIO software with a specific focus on decentralisation, sustainability and governance.
WHY ARE WE A PART OF IT?
EOSphere decided to join up with Telos just prior to their launch after discussions with the Telos Launch Group. We were honoured to be invited to perform independent verification of the genesis snaphot. This is a crucial stage of any block chain launch and we were more than happy to oblige.
We're very excited around the whole Telos ethos. The Telos Foundation are committed to providing a high-performing, scalable blockchain along with good governance. We agree with many of their principles and it seemed like a perfect fit for us to present ourselves as Block Producer candidates.
Similar to the EOS Mainnet, we also run our own proxy "goodguys4tls" and we vote for the best 30 BP's that are fully compliant with the Telos BP standards.
WHAT IS THIS CHAIN ABOUT?
The Foundation for Interwallet Operability is an industry consortium, consisting of leading wallets, exchanges, crypto payment processors, and various other entities and community members dedicated to the pursuit of blockchain usability through the FIO Protocol.
The FIO Protocol's goal is to make crypto products easier, so anyone can use them.
Usability has long plagued the blockchain and cryptocurrency industry. Anyone who has attempted to utilise these technologies for any user-facing application has hit a seemingly insurmountable wall of difficult User Experience. FIO aims to fix the root of many of these issues in particular the punishing irreversibly of making any mistake. Sent tokens to the wrong public address? Your funds are likely gone forever. Accidentally sent the wrong amount? There's no refund system inherent to blockchain protocols.
The situation can be so bad that it is assumed that a new user will make a mistake, so every blockchain company has to have complicated on-boarding processes to warn users of all the potential pitfalls.
WHY ARE WE A PART OF IT?
The success of any blockchain is gauged by the number of users receiving value through utilising the offered services and applications. Without a positive user experience, even with solid technology, end users will not be able to be on-boarded and left to explore the value of the platform. FIO is built to overcome this and enable mainstream adoption of blockchain technology. This is key to EOSphere's mantra and we are very happy to be involved.
WHAT IS THIS CHAIN ABOUT?
The Jungle TestNet initiated by Crypto Lions has served as sandbox for many development teams and EOS Block Producers since the birth of EOSIO. Now in it's second iteration it has the support of many excellent producers in the EOSIO ecosystem and is even regularly used but block.one for testing and feedback.
WHY ARE WE A PART OF IT?
As a Quality Block Producer, we believe it is our responsibility to give back to the testing and development of the EOSIO platform. Also being part of the Jungle network gives us a feeling of pride in the community and a sense of ubuntu in the ecosystem. Welcome to the Jungle!
WHAT IS THIS CHAIN ABOUT?
Powerledger develops software solutions for the tracking, tracing and trading of renewable energy. They believe in the democratisation of power, for a sustainable future. Powerledger's blockchain technology facilitates secure trading and mitigates settlement risk, whilst also providing an immutable and verifiable audit trail. Although an Ethereum ERC-20 trading token, Powerledger's application blockchain is a separate network run by blockchain professionals and energy trading partners.
WHY ARE WE A PART OF IT?
As a fellow Australian business, we are supportive of Powerledger's vision to remove the friction of sustainable energy trading and how they strive to make the world ecologically intelligent using blockchain technology. Solutions to real world challenges using the power of blockchain are what EOSphere are passionate about and we are very pleased to be able to secure the Powerledger network with our validation services. You are able to stake your $POWR tokens to the EOSphere validator and earn rewards every 2.5 days. Currently EOSphere only charges a reasonable 5% commission.